[For Immediate Release]
Campbell, CA (PRWEB) March 06, 2013
To view this release on prweb click here
Relationship Coaching Institute announces the launch of "Let's Get Real," a weekly webTV program that promises to "make relationships cool" by challenging the status quo and telling the truth about relationships- no simplistic advice or pie-in-the-sky theories, just a frank, adult discussion about love, sex, and relationships in the real world for the YouTube generation.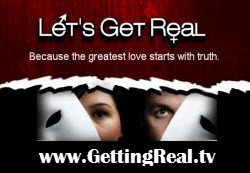 Advice Doesn't Work!
Relationships are the biggest source of human joy and frustration. All relationships have challenges and there is no shortage of relationship advice on the internet, television, print media, and elsewhere, most of which is formulaic, unrealistic and misguided. Relationships can fail when partners need solid relationship information and get bad, vague and overly simplistic "one-size-fits-all" recommendations.
Relationships are complex and unique. Columnists, women's magazines, bloggers, TV and radio hosts dishing out relationship advice are entertaining and get good ratings, but their recommendations don't work because real solutions to relationship problems require a collaborative, creative approach that address the unique needs of both parties.
This is not a tired, ordinary advice program.
This show will not hold back when it comes to any relationship topic.
This show will not simply repeat commonly held platitudes found elsewhere.
This show will bring proven, practical approaches to issues in today's relationships.

Weekly five to seven-minute episodes of Let's Get Real are available on YouTube, iTunes, Vimeo, and Facebook as well as http://gettingreal.tv
Debut episodes include "Can Appointment Sex Be Good?," "Romance is Not a Test," and "Should Couples Share Everything?"
A Real Married Couple Promotes Radical Relationships
Couple relationships can get stale and boring, leading to destructive affairs and divorce. Most couples are unsatisfied with an ordinary, routine, "ho-hum" relationship. This show shares proven strategies for creating out-of-the-box, extraordinary, "radical" relationships for real couples by a real couple.
Each episode addresses a relationship problem submitted by viewers and is delivered with frank honesty, humor, a bit of an edge and much compassion by David and Darlene Steele, a married couple and leaders of the Relationship Coaching Institute who draw upon more than 30 years of professional and personal experience to provide practical, out-of-the-box information and strategies about all elements of relationships- from sex to communication, no topic will be neglected or spared.
Passionate about relationships and determined to make a real difference for their viewers, the Steeles are not slick, polished, commercial attention-seekers; just a genuine married couple in the trenches who happen to be genuine, credible relationship experts leading an organization that has trained thousands of relationship coaches to help singles and couples have successful relationships.
Free Getting Real Club Membership
Subscribers who register on their website for free Getting Real Club membership get notified when new episodes are released, are able to download episodes for later viewing, and get free access to Radical Relationships, an innovative "how-to" video series covering topics such as Radical Intimacy, Radical Sex, Radical Commitment, Radical Dating, Radical Romance, and more.
About Relationship Coaching Institute
Let's Get Real WebTV and Radical Relationships are public service projects of Relationship Coaching Institute. Founded in 1997, RCI is the first and largest international relationship coach training organization and a pioneer in the field of relationship coaching. A distance learning program, Relationship Coaching Institute has trained thousands of relationship coaches all over the world via telephone and internet in the art and science of coaching (without giving ineffective "advice") to help singles and couples have successful relationships. http://www.relationshipcoachinginstitute.com
Like this? Please share!